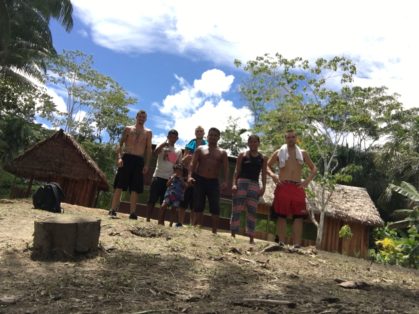 ASHA Center Testimonial
Back in the Spring we had a fun group go down and visit the ASHA Center down in Peru. Because the overall Ayahuasca experience was so postive, I reached out to one of the visitors and asked if she would share more details about her life changing experience … and this is what she shared.

"I became aware of the ASHA center in Peru after joining A Spiritual Hand group on Facebook. I have had a lot of pain in my life, despite my age which has lead to behaviors I am not proud and I needed the positivity of fellow group members, especially Ryan the owner.
I followed his personal path of healing and I knew I needed help too. My week at the ASHA center was truly life changing. The center is located in the heart of the jungle. The journey to it gave me so much strength, sure their was a little fear of the unknown but the staff members who greeted me at the airport with open arms and hearts full of love made my soul instantly more at ease. Traveling down the Amazon River to get to the grounds is something I can't put into words. The scenery is more powerful than I ever imagined. The center is on a gorgeous piece of land that has truly magic coming from all angles of the jungle.
It is breathtaking.
The staff took me and my family, (yes I brought my twin sister and my mother whom is 60 years old and this experience also changed her life) all over the land and river seeing all the Amazon has to offer with our amazing "jungle guy" Danny! The Ayahuaska ceremonies are at night in the beautiful Malioka if you choose to attend. I was very nervous to participate but I was being called. My pain, my demons, my depression NEEDED me too. (My mother opted out and participated only in all the activities the center offers.) The Shaman, Wilma, worked all her energy with the Ayahuaska and her spiritual strength to help me do work on myself the entire time. The best way I have found to put any kind of words to something so powerful is connection. Connection to what is REAL in this life and new inside myself: love, unity, gratitude, community, peace, euphoric type of happiness that we all deserve! I have never grown so much. I am forever grateful for what the ASHA Center gave me. There is magic in the jungle that is indescribable by words.
Please, if you want to do something amazing for yourself, if you want to FEEL something so amazing you can't imagine, get out to the Center! I hope with all by heart you do, you DO deserve it!"
-Samantha Gentry, Spring 2016
Find more details of the next outgoing groups on our booking page.
*Namaste*